Eat Wagashi & Sweets till you drop in Gifu!
Tired of searching local foodies? Join us for a fun day out instead! Get off the beaten tourist track and join a local Gifu girl for an authentic Japanese experience. Discover real food culture – a friendly tour guide will welcome you like an old friend, accompanying you to local Wagashi/Sweets shops whilst changing local buses to visit sightseeing spots and eat lots of delicious food from various places. You will have 8 different Wagashi & Sweets (including Onigiri lunch) during this tour.
It's a foodies crawl of sorts, with a delicious variety of foods and laughter.
You will enjoy local food culture alongside your guide and local Gifu folk. Come hungry, leave happy!
DATE & TIME

10:00-15:00 (5 hours)

Available all year round

MEETING POINT
In front of central ticket gate, JR Gifu Station
MINIMUM PARTICIPANTS
2-8 people
INCLUDED

Guiding Fee
all foods

(Onigiri & Tonjiru or Miso soup lunch) & Wagashi sweets

NOT INCLUDED

Separate cheques for extras
*This tour will take to you at least 8 destinations, depending on how much you can eat.
*Advanced booking required. It is the customer's responsibility to inform us on any dietary restrictions or concerns.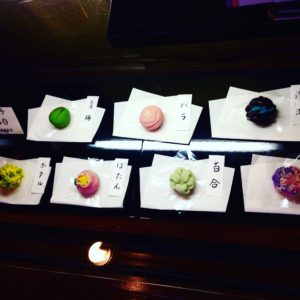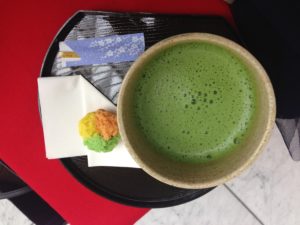 10:00am - Departure
Meet your guide in front of central ticket gate, JR Gifu Station. The guide will explain about the tour and Gifu's brief history. First, let's have matcha chocolate fondue at a very popular Japanese sweets shop in Gifu. Matcha green tea Japanese fondue are dipped in 12 different ingredients such as a slices of fruits, a diced of cheesecake, marshmallows, tri-color dango & warabi-mochi etc., delicious and melts in your mouth!
Sakae Pan/bread
Sakae Pan is a bakery that has been open since 1947 and is very popular with local, especially students. Try cream bread or Anpan here. You can always enjoy approximately 60 kinds of bread in this shop.
Oni-manju
If you are Gifujin/Gifu folks, you should eat snacks that you really want to eat sometimes. Oni-manju literally means "Devil buns". It is the steamed buns with a lot of sweet potatoes inside. 
Onigiri lunch with Miso soup
Dango
Enjoy Mochi mochi Dango before exploring little Kyoto like Kawara machi area. 
Cuppa time - a cup of Coffee or Royal milk tea with cake
Ayu gashi
One of my favourite Gifu speciality Ayu gashi is a sponge cake wrapped Gyuhi which is made from glutinous rice flour and sugar, the shape of sweet fish of Nagaragawa cormorant fishing.
Taiyaki
Last sweets is Taiyaki! This shop one is crispy and moderate sweetness. You'll love it for sure.