Our most popular tour during winter season in Gifu! Snowy Shirakawago is like a fairytale. lf you come to Gifu during snow season, you must not miss this opportunity. If you join this tour, we will take you to a special place we recommend.
This tour is available of "Go to Travel discount campaign" for Japanese or non-Japanese residents living in Japan. If you use this "Go to Travel" campaign, the total tour price of 11,200 yen/person will be discounted to 7,300 yen + 2,000 yen travel coupons (cash back by coupons which available to use at "Go to Travel" campaigns registered local shops or restaurants or combinis on these travel dates in designated prefectures).
DATE & TIME

8:00am-7pm (11 hours)

Available from the 12th of Jan. to the beginning of Mar. (Depends on the year)

STARTING POINT
Gifu Bus Terminal
MINIMUM PARTICIPANTS
1-15 people
INCLUDED

Round trip highway bus tickets from Gifu Bus Center to Shirakawago

Mountain vegetable and tofu lunch set

Entrance ticket at Gassozukuri Minkaen

NOT INCLUDED

Drinks and any other meals except lunch

Guiding fee and escort guide (+ 25,000 yen)
*Available for lunch requests such as Hida beef lunch, halal-friendly, vegan etc. any food restrictions.
*Advanced booking required. It is the customer's responsibility to inform us on any dietary restrictions or concerns.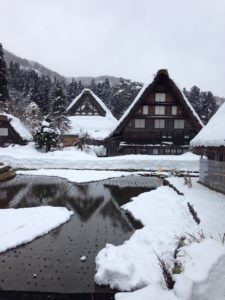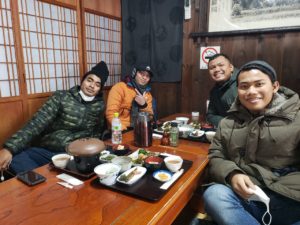 8:30am - Departure
The tour starts from Gifu Bus Terminal.
8:45am - D Bus stop at Gifu Bus Terminal
Highway bus ride to Kosoku Seki/Highway Seki and transfer the bus to Shirakawago
11:32am - Arrive at Shirakawago
Arrive at Shirakawago (Ogimachi) / Shirakawago Bus Terminal and walk to lunch restaurant.
11:40am - Lunch at local restaurant
Local food production and consumption. Ingredients come from local mountains. Enjoy your meals!
00:30pm - Stroll lovely Shirakawago village
We will provide our recommendations with map.
Visit outdoor museum Gasshozukuri Minkaen
03:55pm - Departure from Shirakawago
Back to Shirakawago Bus Terminal & ride the Highway bus to Highway Seki. Transfer at Highway Seki.
05:35pm -Tea time at Seki Service area
Arrive at Highway Seki and enjoy tea time and shopping at Seki Service area (Recommendations; Famous Seki Knives, scissors, nail clippers, Seki Milk soft serve ice cream, bakery).
07:00pm - Terminate the tour
Arrive at Gifu Bus Terminal